What's In My Camera Bag?
As a wildlife and landscape photographer and writer who lives on the road, space is at a premium. Before I hit the road full-time at the end of 2018, I sold a lot of gear. I like to think I kept the essentials and then some: two portable bags filled to the brim with gear accompany me on my trips. This page gets updated when I sell and acquire new camera gear.
Please help support this website by purchasing your camera gear through the links provided below. Adorama is one of the world's largest photography stores: by using the links below, your price will be the same but they send me a few dollars for sending you their way.
Camera Bodies
Primary Camera Body: Nikon D500 + MB-D17 grip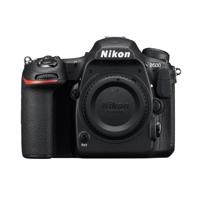 Why? One of the things that I sold prior to starting life on the road is my full-frame Nikon D4s. I had always wanted one of Nikon's professional bodies. Their reliability, high ISO performance, oversized battery compartment, high frame rate, big buffer, great autofocus system, excellent weather sealing, comfortable form factor all add up to the relatively high purchase price. When Nikon released the D5 as its new flagship camera (now replaced by the new Nikon D6), I drooled over its upgraded autofocus system but didn't feel like plunking down another $6,500 and only get a 20 MP sensor compared to the D4s' 16 MP full-frame sensor. You see, especially in wildlife photography, I'll take all the 'zoom' I can get. Animals are usually shy, stay far away from eager photographers and that is without even mentioning those small flying feathery creatures that seem to shrink when you point your camera at them. I was thrilled to learn that, together with the D5, Nikon offered a 'crop sensor' camera body: the Nikon D500, basically a mini D5. The D500 is pretty much a D5 without the oversized battery compartment. It shares all the good stuff that I want, like the autofocus system. It's also 20 MP, just like the D5, but on a crop sensor. Long story short: when you mount a certain lens on a crop sensor body, it's like putting it on steroids. You get the field of view of a lens that is 1.5x 'longer' in focal length but of course, the magnification doesn't change. (If you're new to photography and are interested in learning about this, check out my Beginners Guide here) Basically, when compared to the D5, more pixels will cover the animal and I like that. And, the D4s may shoot at 11 frames per second, the D500 is no slouch at 10.7 frames per second. When Nikon announced that the D500 was to be released at less than 1/3rd the cost of a D5 ... well, that's why to this day the D500 is my number one camera body for wildlife and action photography. For extended battery life, I added the MB-D17 grip (which stays in my camera bag more often than not).
Click here to order the Nikon D500 at Adorama
Click here to order the Nikon MB-D17 Multi Power Battery Grip at Adorama
Second Camera Body: Nikon D850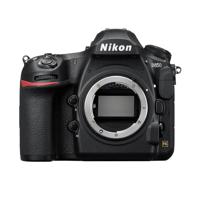 With its 45.7 megapixels and - when you add the optional grip - 9 frames per second, it sounds like the dream come true for wildlife photographers. And it kind of is. When you look at the specs, the D500 and D850 are remarkably similar: they share the same button layout (no searching for buttons and functions in the heat of the action), the same excellent menu system, the same excellent autofocus system, the same batteries, the same memory card types, very similar image quality, very similar dynamic range and the same pixel density resulting in similar ISO performance. What's different then you ask?
Well, the D850 is a full frame (FX) camera so the field of view is larger as compared to the DX sized D500. When you're out and about in the field with one lens, if you take the D850 you'll have a larger field of view so you can include more scenery around the animal. And, because when you switch the D850 to the crop DX setting, you basically have the same 20.9 megapixels that the D500 offers. So, the D850 is a D500 with an extra band of pixels around the edges of the D500's frame.
What don't I like about the D850? The slower frame rate (7 without the grip versus 10.7 fps for the D500) and the larger file size. One 45 MP image on the D850 is around 50 MB versus 25 MB for the D500's images. When you're having a great day and you're shooting 1,000 images, that's a LOT of extra hard drive space as well as backup space the D850 requires.
So, I typically carry both cameras into the field. The D500 gets used when I need the higher frame rate, the D850 gets used when I need the larger field of view to include scenery.
Click here to order your Nikon D850 at Adorama
Third Camera Body: Nikon D800
When I purchased this camera body back in 2013, I never expected to use it this long, but yet it still finds itself in my bag. The explanation is very simple however: I have always loved the image quality of the D800. With its 36 MP sensor, it provides plenty of resolution for printing large prints. At only 4 frames per second and a (very) small buffer however, it is not a wildlife camera. The Nikon 24-70mm f/2.8 lens is typically always mounted on the D800 and so it gets used for landscapes (with or without wildlife in it).
Lenses
You never know what you're gonna get out in the field: a grizzly may show up 100 yards out or it may appear out of the bushes next to your car. I like to have a large range of focal lengths covered, so here goes. You may notice I don't carry many prime lenses: a combination of a lack of carrying space on my travels and the extra flexibility offered by a zoom lens are responsible for this. You'll also notice that I only carry full-frame (FX) lenses. The reason is that these work on FX as well as on DX (crop sensor) bodies. I like fast lenses and I usually shoot them wide open to minimize depth of field, maximize my shutter speed and minimize the ISO. However, I can't wait for the 14-800mm f/2.8 lens to be announced which will replace all lenses in my bag ... but unfortunately the laws of physics don't seem to agree with my wishes.
Wide-Angle Lens: Nikon 16-35mm f/4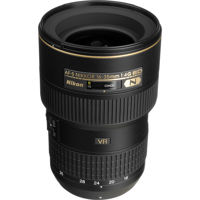 When I was shopping around for a wide-angle lens, I debated between the - ever popular - Nikon 14-24mm f/2.8 and the 16-35mm f4. Back in the day when I acquired my first DSLR camera body (the Nikon D70 followed by the D7000), my wide-angle lens was the Tokina 11-16mm f2.8 lens. This is a great wide-angle lens for DX (crop sensor) camera bodies as it provides the field of view of a 16-24mm lens. I am usually on the move however and found that focal length range very limiting for anything else besides wide-angle panoramas. So when I purchased the full-frame D800 camera, I briefly looked at the 14-24mm lens ... but opted to go with the 16-35mm f/4 lens. Yes, quite possibly less excellent optically but I love that the extra focal length range gives me flexibility to use it in more situations. I don't mind the loss of the stop of light (from f/2.8 to f/4) since this lens is usually setup on a tripod and is usually stopped down anyway to maximize depth of field.
Click here to order your Nikon 16-35mm f/4 lens at Adorama
Regular Focal Length Range: Nikon 24-70mm f/2.8
Not much has to be said here. I fell in love with this lens the first time I used it shooting a wedding back in the day before I switched full-time to wildlife. It's amazingly well built and feels like a tank. The image quality is outstanding. This lens is usually mounted on my older D800 as it doesn't get used in wildlife photography much, perhaps with the exception of landscape scenes to show the surroundings of an animal, like this image:
Click here to order your Nikon 24-70mm f/2.8 lens at Adorama
Long-Focus Lens 1: Nikon 70-200mm f/2.8
Although 200mm is on many occasions considered to be insufficient for wildlife photography, I use this lens surprisingly frequently. It is built like a tank and has outstanding image quality. It provides the field of view of a 105-300mm f/2.8 lens on the D500 which is quite useful. Even at 105mm it allows me to include scenery around the animal. The large aperture f/2.8 is a life saver in wildlife photography where the animals usually show up when there is little light available. Opening up to f/2.8 allows me to increase the shutter speed or keep the ISO down, whichever is needed at the time. And, I find this lens works well with Nikon's 1.4x teleconverter which turns it into a 147-420mm f/4 lens on the D500 (where field of view is concerned). Not bad for such a relatively small lens. Like with many of Nikon's other workhorse lenses, this lens receives an update every few years with the newer version usually shaving off some weight.
Click here to order your Nikon 70-200mm f/2.8 lens at Adorama
Long-Focus Lens 2: Nikon 200-500mm f/5.6
These past few years have seen the introduction of relatively inexpensive long-focus lenses such as the Tamron and Sigma 150-600mm f/5.6-6.3 lenses. Prior to these lenses, if you wanted or needed a focal length of 600mm, you found yourself debating between selling your car and taking out a 2nd mortgage on your house to finance the purchase. Enter Tamron and Sigma with these highly popular lenses offered at about 1/8th the price. There is no denying how great these lenses are for wildlife photography: compared to the 'big guns', these lenses are small and, light enough to be carried around all day, and can be used even without the need for a tripod. So, when Nikon introduced their version; the 200-500 f/5.6; I jumped on it. Sure, the build quality (weather sealing) and sharpness aren't quite up to the level as the more expensive prime lenses, but the fact that I can go hiking in a National Park all day with this lens in my backpack makes up for that! I love the flexibility of the zoom range, especially considering that on a DX body like the D500, this lens provides the field of view of a 300-750mm lens, all at a constant f/5.6 aperture. Side note: I don't use this lens with a teleconverter. Even the 1.4x turns it into an f/8 lens which is usually too slow for wildlife (and many camera autofocus systems); and I find the optical quality degrades beyond what I like (unless stopped down even more).
I used to have the Nikon 200-400mm f/4 lens but sold it to go with the 200-500 f/5.6 lens. The 200-400 f/4 lens is definitely heavier and bigger, which is the main reason why I went with the 200-500 f/5.6 lens ... although, I sometimes regret this. The f/5.6 aperture is for my wildlife photography definitely less useful than f/4.
Click here to order your Nikon 200-500mm f/5.6 lens at Adorama
Long-Focus Lens 3: Nikon 500mm f/4
An outstanding lens. It better be for that kind of money. Excellent image quality, sharpness, contrast, build quality, ... The only thing I don't like about this lens is its weight. It is heavy. Usability without solid support is limited, although much better than my 600mm f/4. This is why Nikon (and Canon/Sony) release a new version of this lens every few years with the main 'upgrade' being that they knocked off a few pounds of weight ...
I used to have the Nikon 600mm f/4 lens which was substantially heavier and, most importantly, was frequently a little much to photograph large mammals, so I sold it and went with the 500mm f/4 lens.
I love shooting wildlife with this lens. Once you use it regularly, you (almost) forget all about its price tag. On a D500, the field of view is 750mm. And, it combines very well with the Nikon 1.4x teleconverter which turns it into a 700mm f/5.6 lens with a field of view of 1,050mm on the D500!
Click here to order your Nikon 500mm f/4 lens at Adorama
Macro Lens: Nikon 105mm f/2.8 Micro
No matter where you are, there's always wildlife to photograph. While we all don't have the luxury of living near a National Park, there's always small animals around, even if you live in a city. This is why I love my macro lens. It's fun going out and searching for lizards, insects ... even ants! This prime lens is amazingly sharp and I sometimes find myself using it for regular landscapes too. The 105mm focal length allows me to keep a decent distance from my subjects as opposed to the shorter 60mm macro lenses.
Click here to order your Nikon 105mm f/2.8 Micro lens at Adorama
Accessories
Tripod 1: Gitzo Systematic Series 5 + Wimberley WH-200 Gimball
Tell you the truth, I don't like tripods. I much prefer to handhold the camera and lens for ultimate freedom. That being said: the 600mm f/4 lens is pretty much useless without a tripod and a tripod pretty much always gives you sharper results, so ... I reluctantly bought what I needed. The Gitzo tripod checks all the boxes for me: sturdy enough to support the 600mm f/4 lens, lightweight carbon fiber construction and tall enough to allow me to stand fully upright while using it. I used to have the Gitzo Systematic Series 3 tripod before owning the 600mm f/4 lens: back then, my 'biggest' lens was the Nikon 200-400mm f/4 so the Series 3 tripod with the Wimberley Sidekick adapter was sufficient. I didn't feel comfortable however hanging the heavy 600mm f/4 lens from the side of the Series 3 tripod so I upgraded to the Series 5 with full gimball head combo. If you're debating between supporting your big telephoto lens on a ballhead, sidekick or full gimball, don't. Go for the full gimball. I also own a ballhead tripod head but haven't used it since I bought the Wimberley gimball head.
Click here to order your Gitzo Systematic Series 5 Tripod at Adorama
Click here to order your Wimberley WH-200 Gimball Tripod head at Adorama
Tripod 2: Primos Triggerstick
Technically, this is a hunting accessory. Practically, it's a very inexpensive, lightweight monopod (and hiking stick)! While out hiking on the 'hunt' for wildlife, I really don't want to drag my Gitzo + Wimberley combination with me. Another photographer (thanks Duane!) turned me onto this triggerstick. Used by hunters to support and stabilize their rifle, it's perfect as an impromptu monopod to rest your lens on.
Click here to order your Primos Triggerstick at Adorama
Camera Bag 1: Think Tank Airport Security bag
The Nikon 600mm f/4 lens fits in this bag, the bag can be carried onto a plane and it has wheels. Besides the big lens, there's enough room for the Nikon 70-200mm f/2.8 and a host of accessories.
Click here to order your Think Tank Airport Security bag at Adorama
Camera Bag 2: Gura Gear Bataflae 26L 'Safari Edition' bag
This bag houses both camera bodies, all the other lenses and accessories. Too bad it doesn't have wheels as it does get heavy filled up with gear.
Camera Harness: Cotton Carrier 3G Camera Harness System
Once you acquire a bunch of heavy lenses, you need a good way to carry some of these with you while out in the field looking for wildlife. After testing several options, I ended up keeping this one: read my full review by clicking here.
Teleconverters: Nikon 1.4 (TC-14E) + 1.7 (TC-17E)
I'm not a big fan of teleconverters. Light is precious in wildlife photography in order to attain a fast shutter speed and teleconverters reduce the available light. They also reduce overall sharpness unless you really stop them down which again negatively affects the shutter speed. Needless to say, they hardly leave my bag. The 1.7 mostly gets used for video. The 1.4 gets used when absolutely needed on the 600mm f/4 lens and occasionally on the 70-200mm f/2.8 lens.
Click here to order your nikon 1.4x TC at Adorama
Click here to order your Nikon 1.7x TC at Adorama
Lens Protection: LensCoat + LensCoat RainCoat Pro
To protect the lenses against light impact and scrapes, the 70-200mm f/2.8, 200-500 f/5.6 and 600mm f/4 lenses are protected in a LensCoat. To protect the camera body and lens while shooting in the rain, I use the LensCoat RainCoat Pro which keeps everything dry while still allowing easy access for my hands to all necessary buttons.
LensCoat for Nikon 70-200mm f/2.8E at Adorama
LensCoat for Nikon 200-500mm f/5.6 at Adorama
LensCoat for Nikon 600mm f/4 at Adorama
LensCoat RainCoat Pro at Adorama
Speed Light: Nikon SB-700
A left over from my days of shooting weddings and events, I hardly ever use this in wildlife photography. I am convinced that a flash can be great when used appropriately in wildlife photography, for example to add a catch light in the animal's eye, so I keep it in my bag. Unfortunately, that is to be taken quite literally as it almost never leaves my bag ...
Click here to order your Nikon Speedlight SB-700 at Adorama
Optical Filters: B+W and Formatt-Hitech filters
More used in my landscape photography, I carry a small set of filters in my bag. By far used the most is my B+W circular polarizer filter. Other filters include a set of the Formatt-Hitech 0.6 and 0.9 neutral density filters (both hard and soft edge). Finally, a 'fun' filter to play around with is the 'big stopper': the B+W 10 stop neutral density filter.
Click here to order your B+W Circular Polarizer (77mm) at Adorama
Formatt-Hitech 0.6 Graduated Soft Edge ND filter at Adorama
Formatt-Hitech 0.9 Graduated Soft Edge ND filter at Adorama
B+W 10 Stop Neutral Density Filter at Adorama
Remote Trigger: PocketWizard PlusX
Also not a must-have but rather a fun-to-have accessory in my bag: to get intimate wildlife shots, I like to setup a camera on a tripod with a wide-angle lens next to an animal trail or a water hole. I can sit in my wildlife blind a good distance away and use the PocketWizards to trigger the shutter release.
Click here to order your PocketWizard PlusX 2-pack at Adorama
Game/Trail Camera: Browning Trail Camera Recon Force HD Extreme
Quite a mouthful. When I'm in an area for a longer period, I love to hang my game camera in the forest (away from human activity) and get surprised by everything that happens when we're not watching. The game camera has been sniffed and scratched by black bears and elk who are curious about that thing hanging on a tree. It has captured videos of grizzly bears in Alaska, wolves in Jackson Hole and many more creatures in the American West and Canada.
Click here to order your Browning Trail Camera at Adorama
Wildlife Blind/Hide: Barronett ground blind
This portable blind (it's basically a small tent) is light enough to carry into the forest and big enough to be comfortable in. It sets up in a matter of a few minutes with minimal effort and it works great. I've had a black bear approach the blind, curious about the noises coming from the inside. The blind works great but the shutter noise from your DSLR will still give you away however: I can't wait to buy a pro-quality Nikon mirrorless camera with truly quiet shutter ... that is, once they finally release one.
Any questions on what's in my bag and why? Check out my Beginners Guide to Wildlife Photography or shoot me an email.
I look forward to meeting you out in the field. In the meantime, happy shooting!